Page 18 - Scholastic Dollars 2018-2019 Catalog
P. 18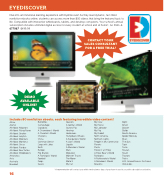 EYEDISCOVER
Dive into an immersive learning experience with EyeDiscover! As they read dynamic, fact- lled non ction ebooks online, students can access more than 800 videos that bring the featured topic to life. Compatible with interactive whiteboards, tablets, and desktop computers. Your school's annual subscription includes unlimited digital access for every student at school and at home*. Gr. PreK–3. 677987 $499.99
CONTACT YOUR SALES CONSULTANT FOR A FREE TRIAL!
DEMO AVAILABLE ONLINE!
Includes 80 nonfiction ebooks, each featuring incredible video content!
Africa
Alamo
All About Alligators
All About Flying Foxes All About Giraffes
All About Jelly sh
All About Meerkats
All About Monkeys
All About Orcas
All About Pandas
All About Sea Turtles All About Wildebeests Antarctica
Asia
Australia
Baseball
Butter ies Camou age Capybara
A Chameleon's World A Cheetah's World Chickens
China
Common Sense Dogs with Jobs Earth
Europe
Fire Station
A Flamingo's World Football
Frogs
Gases
Glaciers
A Gorilla's World Guinea Pig
Hearing
Herbivores Humpback Whales A Kangaroo's World A Lion's World Liquids
A Manatee's World Mars
Migration
Monster Trucks
The Moon
Moto X
My Cat
My Cow
My Horse
My Labrador
My Pig
My Rabbit
North America
Northern Lights
People in My Community Planets
Plants
Poison Dart Frog
A Polar Bear's World Rainbows
A Rattlesnake's World
A Reindeer's World Seasons
Sight
Smell
Soccer
Solids
South America Spider Monkey Stars
The Sun
Tapir
Taste
Toucan
Touch
Tractors
Trains
U.S. Armed Forces: Air Force Volcanoes
16
*A representative will contact you within ten business days of purchase to assist you with subscription activation.