Page 3 - Scholastic Dollars 2018-2019 Catalog
P. 3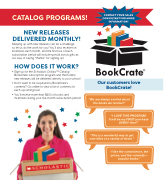 CATALOG PROGRAMS!
NEW RELEASES DELIVERED MONTHLY!
Keeping up with new releases can be a challenge, so let us do the work for you! You'll also receive fun incentives each month, and the  rst box of each subscription period will include special bonus gifts as our way of saying "thanks" for signing up!
HOW DOES IT WORK?
• Sign up for the Scholastic DollarsTM Catalog BookCrate subscription program and the hottest new releases will be delivered directly to your school!
• Don't want to be surprised by BookCrate's contents? Go online to view a list of contents for each upcoming box!
• You'll receive more than $500 of books and incentives during your  ve-month subscription period!
CONTACT YOUR SALES CONSULTANT FOR MORE INFORMATION!
"We are always excited about the books we receive!"
"I LOVE THIS PROGRAM! It will be my FIRST purchase EVERY time!"
"This is a wonderful way to get new titles at a variety of levels."
"I like the convenience, the prices, and the currently— popular books."
Our customers love BookCrate!