Page 44 - Scholastic Dollars 2018-2019 Catalog
P. 44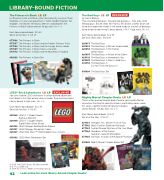 LIBRARY-BOUND FICTION
The Princess in Black LB LP
by Shannon Hale and Dean Hale; illustrated by LeUyen Pham Magnolia isn't your average princess. When trouble threatens her kingdom, she ditches her  ouncy dresses and becomes the Princess in Black! Library bound. 96 pp. each. Gr. 1–3.
Each library-bound book $25.65 Set of all  ve titles $128.25
677066 The Princess in Black
677067 The Princess in Black and the Perfect Princess Party 677068 The Princess in Black and the Hungry Bunny Horde 677069 The Princess in Black Takes a Vacation
677070 The Princess in Black and the Mysterious Playdate
830680 The Princess in Black Set
The Bad Guys LB LP EXCLUSIVE
by Aaron Blabey
They sound like bad guys, they look like bad guys...they even smell
like bad guys. But Mr. Wolf, Mr. Piranha, Mr. Snake, and Mr. Shark are trying to change their image! Is the world ready for a bunch of bad guys trying to do the right thing? Library bound. 144–176 pp. each. Gr. 2–5.
Each library-bound book $22.99 Set of all seven titles $160.93
820851 The Bad Guys
820853 The Bad Guys
820854 The Bad Guys
Strikes Back
820855 The Bad Guys
829132 The Bad Guys 829389 The Bad Guys 833358 The Bad Guys
in Mission Unpluckable in The Furball
in Attack of the Zittens in Intergalactic Gas
in Alien vs Bad Guys in
LEGO® Brick Adventures LB LP
Join your favorite LEGO characters in action-packed adventures! Each book in this high-octane series includes three exciting stories. Library bound. 64 pp. each. Gr. 1–3.
Each library-bound book $22.99 Set of all  ve titles $114.95
829448 829449
829450 829451 829447
830682
LEGO DC Super Heroes:
Bad Guy Blizzard
LEGO DC Super Heroes:
Super-Villain Ghost Scare!
LEGO Ninjago: Brother/Sister Squad
LEGO Ninjago: School for Crooks
LEGO Star WarsTM: Stormtrooper Class Clowns
LEGO Brick Adventures Set
EXCLUSIVE
Do-You-Think-He-Saurus?! 830684 The Bad Guys Set
Mighty Marvel Chapter Books LB LP
These action-packed chapter books feature your favorite Marvel characters! Exciting full-color illustrations and thrilling stories make this series a perfect choice for reluctant readers.
Library bound. 128 pp. each. Gr. 2–5.
Each library-bound book $25.65 Set of all  ve titles $128.25
677061 Avengers: Ms. Marvel's Fists of Fury
677062 Black Panther: Battle for Wakanda
677063 Doctor Strange: Mystery of the Dark Magic
677064 Guardians of the Galaxy:
Gamora's Galactic Showdown
677065 Iron Man: Invasion of the Space Phantoms
830686 Mighty Marvel Chapter Books Set
© 2018 The LEGO Group. All rights reserved.
© & TM Lucas lm Ltd.
© 2018 DC Comics, WBEI, & The LEGO Group.
42
Look online for more library-bound chapter books!