Page 86 - Scholastic Dollars 2018-2019 Catalog
P. 86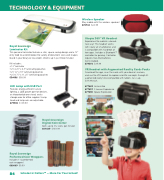 TECHNOLOGY & EQUIPMENT
Utopia 360° VR Headset
Experience the world in a brand- new way! This headset works with nearly all smartphones and is compatible with hundreds of free apps. Includes a BluetoothTM controller for gaming. Controller requires two AAA batteries
(not included). 679516 $39.99
VR Headset with Augmented Reality Cards Packs
Download the app, scan the cards with your device's camera, and use the VR headset to explore scienti c concepts through 4D augmented reality! Also compatible with tablets. Gr. 2–up.
$39.99 each.
677689 Animal Zoo
677691 Dinosaur Experience 677690 Space Exploration
Royal Sovereign
Digital Coin Sorter
Sorts up to 312 coins per minute! 601429 $149.99
Royal Sovereign Preformed Coin Wrappers Includes 112 preformed
coin wrappers!
680889 $9.99
Royal Sovereign
Laminator Kit
This personal laminator features a slim, space-saving design and a 12" entry feed to accommodate the variety of document sizes and shapes found in your library or classroom. Warms up in just three minutes!
Kit includes:
• 12" laminator
• 25 4.25" x 6.5" laminating pouches
• 25 12" x 18" laminating pouches
• 25 8.75" x 11.25" laminating pouches 554496 $99.99
LED Lamp with USB Port
Features energy-ef cient natural lighting, a USB power port for devices, an integrated phone stand, and a storage area for of ce supplies! Lamp head and lamp arm are adjustable. 679936 $139.99
Wireless Speaker
Stay mobile with this wireless speaker! 676732 $24.99
84
Scholastic DollarsTM — More For Your School!