Page 99 - Scholastic Dollars 2018-2019 Catalog
P. 99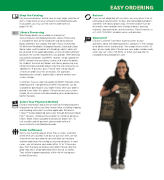 EASY ORDERING
Shop the Catalog
For your convenience, and to view an even larger selection of items, shop online at www.scholastic.com/bookfairrewards. If you prefer, you may use the write-in order form on
pages 95–96.
Library Processing
Shelf-Ready books are available at checkout at www.scholastic.com/bookfairrewards. Library Processing
is available for each of the hardcover and library-bound
books offered in our catalog. We offer a Basic Automation
Kit (MAchine-Readable Cataloging Record, a Barcode Label, Spine Label, and the option of a Reading Label). Labels will
be attached to the applicable books at time of order ful llment based on the system requirements you provide. After receiving your processed books and MARC records, simply upload the MARC records into your library system and shelve the books for students to check out! Books with library processing may not be returned and order processing time will increase by an additional 6–8 business days. Please note: we do require
a minimum order of 20 kits or records. For questions regarding your school's speci cations, please contact your system vendor.
Customers have an alternate option for MARC Records when ordering online. Complimentary MARC Record  les can be available for download in your order history after your order is placed if you select this option. Please contact your system vendor for assistance with downloading your complimentary MARC Records.
Select Your Payment Method
Enclose information about one or more of the following forms of payment to satisfy your total amount due, including shipping and handling and sales tax where applicable: Scholastic DollarsTM (to be redeemed exclusively through Scholastic Book Fairs® venues), school purchase order, or school or personal check. Make checks payable to Scholastic Book Fairs. To
use a credit card for payment, please order online at www.scholastic.com/bookfairrewards.
Order Ful llment
We try very hard to keep all of our titles in stock, and most of the time we succeed. If we do run out of an item, we will ship the rest of your order to you and allow you to place another order from the catalog at your convenience. In most cases, you will receive your order within 12 to 15 business days from the date we receive your order. Please note that drop-ship items will be delivered within four to six weeks. They will be shipped separately, within the 48 contiguous United States only.
Returns
If you are not delighted with any item, you may return it for an exchange or refund within 30 days (excluding digital products and items with library processing). All merchandise must be returned in new condition with all original boxes, packing materials, documentation, and instructions. Please contact us at 1-800-799-READ to obtain return authorization.
Questions?
Call our Customer Care team to get answers to your questions about the ordering process, products in the catalog, or to obtain return authorization. We accept returns within 30 days of your order date. Please have your order number ready when you call 1-800-799-READ or email your question to catalog@scholasticbookfairs.com.