Fall 2017 K-8 Booklist
P. 1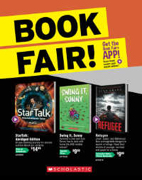 StarTalk: Abridged Edition
Only at Scholastic
#370909
Swing It, Sunny
Summer's over and now Sunny has to deal with home life AND middle school!
Special Price
#371859
Refugee
Josef, Isabel, and Mahmoud face unimaginable dangers in search of refuge. Read their stories of courage, survival, and quest for a home.9
Exclusive Value- $ 99 Priced Hardcover
#372515
An eye-opening journey for anyone curious about our universe.
$1499
$999
BOOK
FAIR!
Get the Book Fairs
APP!
Scan book covers and watch videos!