Page 4 - Fall 2017 K-8 Booklist
P. 4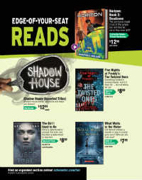 EDGE-OF-YOUR-SEAT
READS
Horizon:
Book 2:
Deadzone
The survivors made it out of the jungle, but will they be sorry they ever left?
Exclusive Value- Priced Hardcover
$1299
#371949
Five Nights
at Freddy's:
The Twisted Ones
Something twisted is hunting Charlie, and if it finds her ... it's not letting her go!
se (Assorted Titles) Shadow House invites you inside and keeps
you forever! $1299 Hardcover each
The Girl I
Used to Be
Olivia is determined to uncover the truth, and
the killer is determined
to stop her! $899
Special Price
#369773 LEX:HL660L
Special Price
#369114
What Waits
in the Water
Did Hannah witness a murder or was it a prank gone awry? Who can she trust now?
Only at Scholastic
#367948
S
S
h
ha
ad
d
o
o
w
wH
H
o
o
u
us
$899
$799
Find an expanded section online! scholastic.com/fair Available at participating schools.