Page 3 - Fall 2018 Custom Booklist
P. 3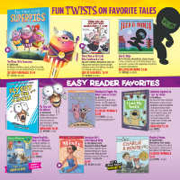 FUN TWISTS ON FAVORITE TALES
The Three Little Superpigs
by Claire Evans
The Big Bad Wolf has escaped and the Three Little Superpigs must save Fairyland before it is too late!
EXCLUSIVE PAPERBACK $5.99
P1 #377238 LEX: AD740
There Was an Old Lady
Who Swallowed a Cow
by Lucille Colandro, illustrated by Jared Lee Find out why everyone's favorite old lady swallowed a cow in this hilarious new book from the best-selling series.
ONLY AT SCHOLASTIC $4.99
Jack B. Ninja
by Tim McCanna, illustrated by Stephen Savage
Hold your breath while Jack B. Ninja dodges, leaps, and evades capture in this ninja fantasy inspired by the classic nursery rhyme.
EXCLUSIVE PAPERBACK $4.99
P2 #374020 LEX: AD470L
P2 #378864 LEX: AD370
EASY READER FAVORITES
Fly Guy and
the Alienzz
by Tedd Arnold
The fun-zee is never- ending in this hysterical, action-packed outer space adventure starring Fly Guy and Buzz.
HARDCOVER $6.99
ER #375999 LEX: 530L Puppy Dog Pals:
Pups on a Mission
Join Bingo and Rolly on
a barktastic mission and learn fun facts about dogs along the way.
$4.99
ER #378757
Elephant & Piggie: My New Friend Is So Fun! by Mo Willems
Gerald and Piggie are best friends, but now Piggie has found a new friend! Is Gerald ready to share?
EXCLUSIVE PAPERBACK $5.99
ER #380269 LEX: 240L
Art © Mo Willems. ELEPHANT & PIGGIE is a
trademark of The Mo Willems Studio, Inc.
American Girl®:
A Girl Named Misty
by Kelly Starling Lyons, illustrated by Melissa Manwill Before Misty Copeland was an American woman, she was an American girl. Read about the defining moments in this young ballerina's inspiring life.
$4.99
Unlimited Squirrels in
I Lost My Tooth!
by Mo Willems
The Caldecott Honor and Geisel Medal award-winning author/ illustrator is back with another breakout beginning-reader series. This time, an ensemble cast of Squirrels, acorns, and pop-in guests host a page- turning extravaganza that includes jokes, fun facts, and hilarious adventures!
HARDCOVER $12.99
ER #378852 ©2018 by Mo Willems
Charlie & Mouse
by Laurel Snyder,
illustrated by Emily Hughes These four funny stories about two inventive brothers paint a lively picture of brotherhood.
EXCLUSIVE PAPERBACK
$5.99
ER #379092 LEX: 420L
ER #377241 LEX: 890L
Fly Guy Art © 2018 by Tedd Arnold
Copyright © 2016 by Claire Evans
Illustrations copyright © 2018 by Stephen Savage
2018 Geisel Award
WINNER
Stickers Included!