Page 5 - Fall 2018 Custom Booklist
P. 5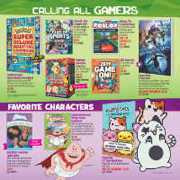 CALLING ALL GAMERS
UPDATED
Edition
Pokémon Super
Deluxe Essential Handbook With stats and facts on over 800 Pokémon, this is an absolute must- have for Pokémon Trainers of all ages.
$14.99
P3 #377237
© 2018 The Pokémon Company International. ©1995-2018 Nintendo/ Creatures Inc./GAME FREAK inc. TM, ®, and character names are trademarks of Nintendo.
Scholastic Year in Sports 2019 by James Buckley, Jr. The year's biggest stars in baseball, basketball, football, and more.
$9.99
MG2 #378586
Pokémon Adventure Collection Eight classic stories all in a boxed set! $39.92
Roblox: The Essential Guide A guide to the world of Roblox, the #1 gaming site for kids and teens.
ONLY AT SCHOLASTIC $12.99
MG3 #378122
2019 Game On!
The ultimate guide to the hottest games.
$14.99
MG3 #378017
Gamer Army
by Trent Reedy
In a dangerous world where video games have invaded reality, Rogan and his rivals must summon their Gamer Army to discover the truth and make things right.
EXCLUSIVE PAPERBACK $6.99
#377990
#378520
Series Collections Table
Poster Included!
8-book set!
© 2018 The Pokémon Company International. ©1997-2018 Nintendo, Creatures, GAME FREAK, TV Tokyo, ShoPro, JR Kikaku. TM, ® Nintendo.
MG3
FAVORITE CHARACTERS
Captain Underpants Wedgie Power Guidebook
Meet George and Harold, two fun-loving best friends with a special talent for trouble. This is your must-have guide for their new TV animated adventures.
$8.99
ER #378775
Andi Mack: Tomorrow Starts Today
When Andi's wild older sister Bex returns home revealing a family secret, Andi is shook! Will life as she knew it ever be the same?
$5.99
© 2018 DreamWorks Animation LLC.
KleptoCats:
It's Their World Now! KleptoCats are cute, but they have a dark side!
ONLY AT SCHOLASTIC $6.99
MG1 #378597
MG2 #377204
KleptoCats® & HyperBeard®. All Rights Reserved.