Page 4 - Fall 2018 Premium Booklist
P. 4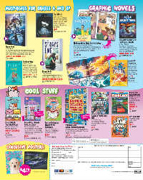 MUST-READS FOR GRADES 4 AND UP
The Collector
by K.R. Alexander
If only Josie had followed the rules: Never leave your windows open after dark, no dolls in the house, never go by the house in the woods!
$6.99
GRAPHIC NOVELs
MG3
#377355 LEX: 560L
Gamer Army
by Trent Reedy
In a dangerous world where video games have invaded reality, Rogan and his rivals must summon their Gamer Army to discover the truth and make things right.
EXCLUSIVE PAPERBACK $6.99
The Baby-sitters Club: Kristy's Big Day
by Ann M. Martin and Gale Galligan
Kristy is excited about her mom getting married, but how will she and the other sitters take care of the 14 kids who come to town for the wedding?
Minecraft: The Battle for
the Dragon's Temple
by Cara J. Stevens,
illustrated by David Norgren
In this action-packed graphic novel, Phoenix must travel to the End and defeat the wicked Defender!
SPECIAL PRICE $9.99
MG3 #379882 LEX: 370L Amulet #8:
Supernova
by Kazu Kibuishi Emily and Navin must be smarter and stronger than ever to ensure Alledia's survival.
$12.99
MG3 #371041 LEX: GN330L
Art © 2018 by Kazu Kibuishi
Roblox: The
Essential Guide
A guide to the world of Roblox, the #1 gaming site for kids and teens.
ONLY AT SCHOLASTIC $12.99
MG3 #378122
2019 Game On!
The ultimate guide to the hottest games.
$14.99
#378017
$10.99
MG1 #377223
MG3 #377990
Positively Izzy
by Terri Libenson
When Izzy and Bri's lives converge on the day of the school talent show, it turns out more dramatic than the girls could have imagined!
SPECIAL PRICE $9.99
Strays Like Us
by Cecilia Galante
Can a girl and the dog she loves find a family in the most unlikely of places?
EXCLUSIVE PAPERBACK $6.99
MG1 #377195 LEX: 590L
MG1
#379563 LEX: GN390L
COOL STUFF
Art copyright © 2018 by Gale Galligan
KleptoCats: It's Their World Now!
KleptoCats are cute, but they have a dark side!
ONLY AT SCHOLASTIC $6.99
MG2 #377204 KleptoCats® & HyperBeard®.
Beanie Boos Ultimate Collector's Guide
They're cuddly, they're cute ... they're the Beanie Boos. This must- have guide is packed with quirky tidbits on all 200+ collectibles, even rare limited editions.
Captain Underpants
Wedgie Power
Guidebook
Your must-have guide for George and Harold's new TV animated adventures.
Pokémon Super
Deluxe Essential Handbook
With stats and facts on over 800 Pokémon, this is an absolute must-have for Pokémon Trainers of all ages.
Scholastic Year in Sports
2019
by James Buckley, Jr.
The year's biggest stars in baseball, basketball, football, and more.
MG2 To locate book, look for these symbols on book cases at your Fair!
$9.99 MG3
MG2
#378586
$9.99
ECC
$8.99
#378775
$14.99 © 2018 The Pokémon Company International. ©1995-
All Rights Reserved.
#376181 LEX: IG870L
ECC ER
P3 #377237
2018 Nintendo/Creatures Inc./GAME FREAK inc. TM, ®, and character names are trademarks of Nintendo.
ER
Lexile Level Key
LEX: Lexile Framework® for Reading. LEXILE is a registered Trademark of MetaMetrics, Inc.
EXCLUSIVE POSTERS
Scholastic Book Fair Wish List
I'd like my child to purchase items at the Scholastic Book Fair to help support our school.
oI am enclosing $____________ in cash.
oI am enclosing a check for $____________. If your school accepts checks at Book Fairs, make check payable to your child's school.
Parent's Signature Student
Teacher
Below are items my child wishes to buy from this booklist:
Book Title
Price
o If my  rst choices are not available, I give my child permission to choose alternate selections. scholastic.com/bookfairs
Booklist effective October 29, 2018 – January 10, 2019
Poster designs may vary by Fair.
These cards accepted at participating schools.
© 2018 Scholastic Inc. All rights reserved. 14852 F18
Subtotal
Sales Tax
(if applicable)
Total
PREM
!
E
D
I
S
I
N
L
O
O
K
K
O
O
L
I
N
S
I
D
E
!
Poster Included!
Updated Edition
KleptoCats® & HyperBeard®. All Rights Reserved.