Page 1 - Spring 2018 K-6 Booklist #2
P. 1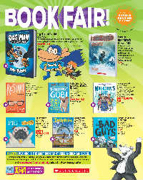 .
s
l
i
S
a
t
e
e
d
e
r
o
f
e
b
a
c
k
p
a
g
Restart
Finding Gobi: The True
Story of One Little Dog's
Big Journey
by Dion Leonard
The story of a stray dog, a runner, and the friendship that changed both of their lives forever.
SPECIAL PRICE $6.99
MG2 MGC #375257 LEX: 680L
Dolphin Summer
by Catherine Hapka When Lily discovers a dolphin in a canal, she must help it find its pod in the bay or it could be in serious trouble!
$6.99
MG3 MGC #374330 LEX: 670L
Dog Man and Cat Kid
by Dav Pilkey
The heroic hound has a new furry feline sidekick to help sniff out a new mystery! Will Petey send them barking up the wrong tree? HARDCOVER $9.99
I Survived
the Children's
Blizzard, 1888
by Lauren Tarshis
A frozen hurricane has hit without warning and the prairie is under ten feet of snow. How will John ever find his way home? $4.99
MG2 MGC #374349
The Magician's Hat
by Malcolm Mitchell,
illustrated by Joanne Lew-Vriethoff When a magical man appears
at the library and invites kids to discover his greatest trick, they
go on an adventure beyond their wildest dreams!
EXCLUSIVE PAPERBACK $4.99
PC #375655
The Bad Guys in Attack of the Zittens
by Aaron Blabey
Can the Bad Guys save the world from evil Dr. Marmalade's meowing monsters?!
$5.99
ECC #373849 LEX: 540L
ECC #374043
DOG MAN TM/® Dav Pilkey
by Gordon Korman
Chase must figure out who he was and who he's going to be.
$6.99
MG2 MGC #375947 LEX: 730L
Pig the Winner
by Aaron Blabey
When Pig challenges his friend Trevor to an eating contest, he may just have bitten off more than he can chew!
EXCLUSIVE PAPERBACK $4.99
PC #375355 LEX: AD480L
Art © 2016 by Aaron Blabey
PARENTS: READING IS THE MOST IMPORTANT SKILL A CHILD CAN LEARN. Becoming a good reader takes practice, and our Book Fair is the perfect place for children to find and choose the books
they want to read. Please support our Book Fair! View this short video to see how your involvement will make a difference.
Visit scholastic.com/bookfairs/family and scroll to Parent Message video.
Scan books on this flyer! Watch a video!