Page 3 - Spring 2018 K-6 Booklist #2
P. 3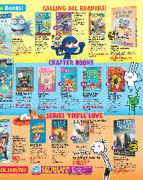 Books!
CALLING ALL READERS!
Moby Shinobi: Ninja
at the Pet Shop
by Luke Flowers
Moby tries to use his ninja skills at the pet shop, but everything turns out wrong! When will it be his time to shine?
$3.99
ECC #374033 LEX: 370L Illustrations © 2018 by Luke Flowers
You Can Do It, Pout-Pout Fish!
by Deborah Diesen,
illustrated by Dan Hanna
Mr. Fish has a big idea but wants to do it all by himself. Will he learn it's OK to have a little help from your friends?
ONLY AT SCHOLASTIC $3.99
ECC #374788
Pete the Cat and the Cool Caterpillar
by James Dean
When Pete's new friend goes missing, it's up to Pete to find him, and he's in for a big surprise!
$3.99
ECC #376236
There Was an Old Pirate Who Swallowed a Map!
by Lucille Colandro,
illustrated by Jared Lee Everyone's favorite Old Lady turns into an Old Pirate who travels the seas! Kids will love this hilarious adventure – and learn facts about life on a ship!
EXCLUSIVE PAPERBACK $4.99
ECC #374413
CHAPTER BOOKS
Elephant &
Piggie: Let's Go for a Drive!
by Mo Willems
Gerald and Piggie are ready to hit the road, but the best-laid plans of pigs and elephants don't always go as planned!
EXCLUSIVE PAPERBACK $5.99
ECC #372693 LEX: 310L
Press Start!:
Super Rabbit Boy vs.
Super Rabbit Boss!
by Thomas Flintham
Can Super Rabbit Boy form a Robot Army before Super Rabbit Boss destroys everyone and everything in sight?
$4.99
ool
ain: Sink or Swim
p with Ms. Frizzle, Wanda angered fish from a giant
da who needs saving!
540L
Bad Kitty Takes the Test
by Nick Bruel
With the help of the instructor at Cat School, Kitty must take a test to prove that she deserves to be a cat!
SPECIAL PRICE $5.99
ECC #373054 LEX: 650L
Puppy Princess #1: Party Time!
by Patty Furlington
Princess Rosie is a puppy who will be Queen one day, yet all she wants is a best friend. How will she ever make one if she's stuck in the castle?
ONLY AT SCHOLASTIC $4.99
Purrmaids #1: The Scaredy Cat
by Sudipta Bardhan-Quallen
Coral has to visit Tortoiseshell Reef for a class project, but she's scared to swim that far away from home. Can this scaredy cat learn to be brave?
$4.99
ECC #374353 LEX: 510L
Toy Academy #1: Some Assembly Required
by Brian Lynch,
illustrated by Edwardian Taylor Welcome to Toy Academy, where action figures, stuffed animals, and collectibles learn how to play!
EXCLUSIVE PAPERBACK $5.99
ECC #370696
ECC #373842
Wedgie & Gizmo
by Suzanne Selfors,
illustrated by Barbara Fisinger Gizmo wants to take over the world and make all humans feel his
wrath. But first he must destroy his archenemy, Wedgie, once and for all!
EXCLUSIVE PAPERBACK $6.99
ECC
#374062 LEX: 500L
SERIES YOU'LL LOVE
G.I. Dogs: Judy, Prisoner
of War
DC Comics
Secret Hero Society:
Detention of Doom
by Derek Fridolfs, illustrated by Dustin Nguyen When Clark is sucked into a portal, his friends travel to an alternate dimension to free him from Lex Luthor's grasp and the worst detention ever!
EXCLUSIVE PAPERBACK $6.99
MG1 #372514
Ranger in Time: D-Day: Battle on the Beach
by Kate Messner
Ranger is in the middle of one of the fiercest battles of World War II and must help soldiers escape enemy warplanes, bombs, and landmines!
$5.99
by Laurie Calkhoven
Join Judy on her incredible journey from puppy to soldier to POW!
$5.99
MG2 MGC #374350
Diary of a Wimpy Kid (Assorted Titles)
Bears of the Ice #1: The Quest of the Cubs
by Kathryn Lasky
Can cubs First and Second survive a dangerous journey across the ice to rescue their mother, who's been taken prisoner by power-hungry bears?
EXCLUSIVE PAPERBACK $6.99
MG2  MGC #374041
MG2
MGC
#376435
#374064 LEX: 650L GET THE APP!
Catch up on Greg Heffley's life!
EXCLUSIVE PAPERBACKS $8.49-$8.99 EACH
• Reading, age, and grade levels • Create and share wish lists
• Shop the Online Fair*
• Watch book trailers
ECC
tic.com/fair
TM and © 2018, Wimpy Kid, Inc.
SEARCH "BOOK FAIRS"
*Online shopping available at participating schools
w
s
d
:
Geisel Honor Book
Newbery Award- winning Author
Illustrations © 2017 by Barbara Fisinger
Illustrations © 2018 by Thomas Flintham
Art © Mo Willems. ELEPHANT & PIGGIE is a trademark of The Mo Willems Studio, Inc.