Page 10 - Scholastic Dollars 2018-2019 Catalog
P. 10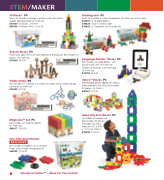 LSETVEMLE/DMCAOLKLERCTIONS
IO Blocks® PS
Each set includes a storage container and a free virtual builder app download! Gr. PreK–up.
657654 IO Blocks $149.99
668786 IO Blocks Minis $124.99
Branch Blocks PS
Intact bark adds to the sensory experience during play! Set includes 36 pieces. Gr. PreK–up.
679329 $49.99
Fiddle Sticks PS
Set includes 1575 pieces in a variety of shapes and a sturdy storage container. Gr. PreK–up.
676898 $59.99
MagicubeTM Set PS
Set includes 64 magnetic blocks. Gr. PreK–up.
680017 $140.00
Clics Education Bucket
EXCLUSIVE
Set includes 800 pieces, an instruction sheet, and a sturdy storage bucket! 680009 $149.99
Building Sets PS
Each set includes a sturdy storage box. Gr. PreK–up. $50.00 each. 667561 3D Building Blocks
679628 Click-n-Create Cubes
679629 Lil' Engineers Construction Kit
Language Builder® Blocks PS Set includes 40 wood blocks, 100 picture cards with structures for children to recreate, and a free app.
Gr. PreK–up. 679765 $69.99
VelcroTM Blocks PS
Soft building blocks tipped with Velcro make creations that soar! Set includes 80 pieces. Gr. PreK–3.
680361 $59.95
Giant Polydron Blocks PS For indoor or outdoor use.
Set includes 80 pieces,
the largest of which
measures 8"L x 8"W x .75"H. Gr. PreK–2. 679094 $150.00
8
Scholastic DollarsTM — More For Your School!