Page 56 - Scholastic Dollars 2018-2019 Catalog
P. 56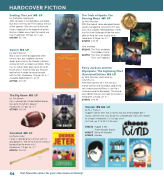 HARDCOVER FICTION
The Big Game MS LP
by Tim Green
Can a young high school football player live up to his father's legacy? Hardcover. 272 pp. Gr. 4–7.
677469 $16.99
Curveball MS LP
by Derek Jeter
Derek is spending the summer with his grandparents. Will he have to live without baseball for the entire visit?
Hardcover. 176 pp. Gr. 4–7.
675012 $16.99
Wonder PS MS LP
by R.J. Palacio
Auggie Pullman feels like a normal kid, but other people don't always see him that way. Share his unforgettable story with readers of all ages! Hardcover. 32–320 pp. each.
Gr. PreK–up. $16.99–18.99 each.
646332 Auggie & Me:
Three Wonder Stories
664357 We're All Wonders 610409 Wonder
Endling: The Last MS LP
by Katherine Applegate
After her pack is hunted down and killed, Byx fears she may be The Endling, the last of her species. She sets out to  nd safe haven, hoping that the legends of others like her, hidden away from the world, are true. Hardcover. 400 pp. Gr. 5–up. 676794 $17.99
Squirm MS LP
by Carl Hiaasen
Billy Dixon's father disappeared when
he was four, but suddenly the man
drops back into his life through a bizarre encounter with an expensive drone. What has his father really been up to for all of those years? And can Billy put the past behind him in order to move forward
with his life? Hardcover. 304 pp. Gr. 4–7. Available September 25, 2018.
677546 $18.99
The Trials of Apollo: The Burning Maze MS LP
by Rick Riordan
With the help of some demigod friends, Lester managed to survive his  rst two trials. But a gloom- lled prophecy states that his third challenge will be the most dif cult thing he's ever had to face! Hardcover. 448 pp. Gr. 4–7.
676098 $19.99
Also available:
652242 The Trials of Apollo:
The Hidden Oracle 664752 The Trials of Apollo: The Dark Prophecy
Percy Jackson and the Olympians: The Lightning Thief
Illustrated Edition MS LP
by Rick Riordan; illustrated by
John Rocco
After learning that he is the son of a mortal woman and Poseidon, god of the sea, twelve-year-old Percy is sent to a summer camp for demigods. This brand- new edition features full-color illustrations! Hardcover. 240 pp. Gr. 4–7.
679348 $39.99
54
Kid-favorite series for your classroom or library!