Page 91 - Scholastic Dollars 2018-2019 Catalog
P. 91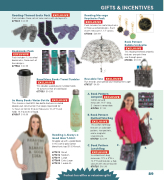 GIFTS & INCENTIVES
Reading-Themed Socks Pack EXCLUSIVE Pack includes three sets of crew socks with rib-top cuffs. 677003 $14.99
Reading Message Keychains Pack
EXCLUSIVE
Pack includes ten metal keychains in three assorted designs. Each charm measures 1.13" across. 677006 $49.99
Bookmarks Pack
EXCLUSIVE
Pack includes 12 tasseled bookmarks, three each of four designs.
677966 $16.99
Read More Books Travel Tumbler
EXCLUSIVE
This double-walled plastic tumbler holds 16 ounces of hot or cold liquid.
677553 $14.99
So Many Books Water Bottle EXCLUSIVE This stainless steel BPA-free bottle features insulated double-wall construction that keeps liquid cold for
12 hours or hot for 8 hours! Measures 10.25"H and holds 16.9 ounces of liquid.
Book Pattern Bubble Umbrella
EXCLUSIVE
This reading-themed umbrella features one print-free see-through pane.
676586 $19.99
Reusable Tote
EXCLUSIVE
Run errands and spread your reading message! 676727 $4.99
676587 $19.99
Reading is Always a Good Idea T-Shirt Snuggle up with a good book in this comfy poly/cotton blend tunic top! $19.99 each.
677013 Small 677012 Medium 677011 Large
677009 Extra Large
677010 Double XL
Perfect for ra es or volunteer gifts!
89
A. Book Pattern Lanyard EXCLUSIVE
Cotton lanyard measures 18.5" long. ID sleeve is removable. 676726 $7.99
B. Book Pattern Quilted Tote Bag
EXCLUSIVE
This cotton tote bag features an adorable pattern, two pockets, and a magnetic
snap closure. 676730 $24.99
C. Book Pattern C. Lunch Bag
EXCLUSIVE
Insulated lunch bag measures 15"L x 8"W x 14.5"H and features a  ap closure with secure buckle. 676725 $16.99
A.
B.