Page 4 - Fall 2017 K-6 Booklist
P. 4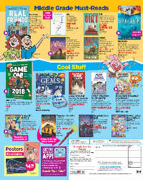 Middle Grade Must-Reads
Perfect for fans of Wonder
Real Friends
by Shannon Hale and LeUyen Pham
Shannon and Adrienne are best friends ... until Adrienne starts hanging out with the popular girls.
SPECIAL PRICE $10.99
Ugly
by Robert Hoge
The true story of an ordinary boy with an extraordinary face.
SPECIAL PRICE $6.99
#372065 LEX:890L
Dirt
by Denise Gosliner Orenstein Yonder knows she has to find a way to rescue Dirt, even if it means sneaking him into her own house!
EXCLUSIVE PAPERBACK $6.99 #368404
MG3  MGC
Left Out
by Tim Green
His deafness has been an obstacle all his life, but now Landon finally sees his chance to fit in.
SPECIAL PRICE $5.99
#373129 LEX:800L MG2  MGC
#372873
MG3
MG2
Wish
MGC
MGC
Illustrations © 2017 by LeUyen Pham
by Barbara O'Connor When Wishbone captures her heart, Charlie discovers that what she thought she wanted may not be what she needs at all.
EXCLUSIVE PAPERBACK $5.99 #372692 LEX:850L
MG3  MGC
Sink or Swim
by Steve Watkins
When his brother is injured, Colton joins the Navy in his place. Will he be able to keep his age a secret, survive boot camp, and face Hitler's submarines?
ONLY AT SCHOLASTIC $5.99
#370726 LEX:1040L MG2  MGC
Cool Stuff
Grumpy Cat® No-It-All: Everything You Need to No
Grumpy Cat is back with a mission: Teach the world to "NO" everything!
EXCLUSIVE PAPERBACK $6.99
#372725
MG1
Wandmaker's Apprentice
by Ed Masessa
When dangers lurk around every corner, can Henry and Brianna beat the odds and convince the Grand Wand Master to teach them his secrets?
ONLY AT SCHOLASTIC $8.99
#370778
MG2 MGC
Mini glow-in-the-dark wand pen included!
Star Wars® Jedi Academy: The Force Oversleeps
by Jarrett J. Krosoczka
Victor is back at Jedi Academy, but it's not going as planned. He'll have to trust the Force and his friends to survive!
EXCLUSIVE PAPERBACK $6.99
#370772
MG1
The Amazing World of Gumball®: Recipe for Disaster
by Megan Brennan, illustrated by Katy Farina Darwin and Richard are ready to beat Bobert in the craziest baking competition you've never seen before – in this dimension or the next!
SPECIAL PRICE $9.99
#372370
GRAPHIC NOVELS TABLE
ShopkinsTM: Updated
Ultimate Collector's
Guide Vol. 3
All the essential fun facts about the latest Shopkins!
$8.99
#370908 LEX:AD810L ECC
Inspired by a true story!
Game On! 2018
The ultimate guide to the best games, featuring an interview with YouTube legend CaptainSparklez.
Rock On!: Gems
Learn about the Earth's most beautiful treasures found right beneath your feet.
ONLY AT SCHOLASTIC $9.99
#369655 REFERENCE/SCIENCE TABLE
$14.99
#371547
MG1
American Girl®: The Real Z
by Jen Calonita
As Z attempts to win a film contest, she discovers that to be a real filmmaker, you have to first be your real self.
SPECIAL PRICE $7.99
#370746
MG3 MGC
Descendants 2 Junior Novel
It's a classic battle between wicked and evil and these kids are made for trouble!
EXCLUSIVE PAPERBACK $6.99 #372018
MG3
MGC
The new character from American Girl!
Scholastic Book Fair
Book Title
Below are items my child wishes to buy from this booklist: Price
Posters
Only at Scholastic!
each 4
$ 75
Poster designs may vary by Fair.
GET THE BOOK FAIRS
Wish List
APP!
• Reading, age, and grade levels • Create and share wish lists
• Shop the Online Fair*
• Watch a book trailer
Search "Book Fairs"
I'd like my child to purchase items at the Scholastic Book Fair to help support our school.
oI am enclosing $____________ in cash.
oI am enclosing a check for $____________. If your school accepts checks at Book Fairs, make check payable to your child's school.
Parent's Signature Student
Teacher
o If my  rst choices are not available, I give my child permission to choose alternate selections.
scholastic.com/bookfairs
Booklist effective August 14, 2017 – October 29, 2017 Tabletop Booklist effective August 14, 2017 – January 11, 2018
Sales Tax
(if applicable)
Total
*Online shopping available at participating schools.
Lexile Level Key
LEX: Lexile Framework® for Reading. LEXILE is a registered Trademark of MetaMetrics, Inc.
To locate book, look for these symbols on book cases at your Fair!
Look for this symbol to  nd books that work with the Accelerated Reader program. ACCELERATED READER is a trademark of Renaissance Learning, Inc., and its use herein is not sponsored or licensed by, or otherwise associated with, them. Check with your school for quiz availability.
K-6
These cards accepted at participating schools.
© 2017 Scholastic Inc. All rights reserved. 13907 F17 Printed in the U.S.A. BF#371499 JC#665961, 17-18
Subtotal
Includes 4 real gemstones!