Fall 2017 Middle School Booklist
P. 1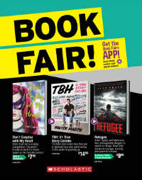 Don't Cosplay with My Heart
TBH: 51 True Story Collabs
Refugee
Josef, Isabel, and Mahmoud face unimaginable dangers in search of refuge. Read their stories of courage, survival, and quest for a home. 9
Exclusive Value- $ 99 Priced Hardcover
#372515
Edan must win a cosplay competition. The prize?
A walk-on part in a movie based on her favorite comics!
YouTube stars share how they got it right and how they got it wrong in this guide to growing up.
Only at $799 Scholastic
#370787 $1499
#370774
BOOK
FAIR!
Get the Book Fairs
APP!
Scan book covers and watch videos!