Page 8 - Spring 2019 Custom Booklist
P. 8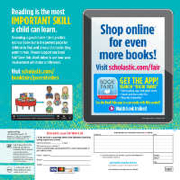 Reading is the most
IMPORTANT SKILL
Shop online*
a child can learn.
for even
Becoming a good reader takes practice, and our Book Fair is the perfect place for children to find and choose the books they want to read. Please support our Book Fair! View this short video to see how your involvement will make a difference.
Visit scholastic.com/ bookfairs/parentvideo
more books! Visit scholastic.com/fair
GET THE APP!
SEARCH "BOOK FAIRS"
• Find reading, age, and grade levels • Create and share wish lists
• Shop the Online Fair*
Use the Book Fairs app to scan books with this symbol!
Watch book trailers!
*Online shopping available at participating schools
Lexile Level Key
LEX: Lexile Framework® for Reading. LEXILE is a registered Trademark of MetaMetrics, Inc.
Scholastic Book Fair Wish List
I'd like my child to purchase items at the Scholastic Book Fair to help support our school.
oI am enclosing $____________ in cash.
oI am enclosing a check for $____________.
If your school accepts checks at Book Fairs, make check payable to your child's school.
Parent's Signature Student
Teacher
Book Title
Below are items my child wishes to buy from this booklist:
Price
o If my  rst choices are not available, I give my child permission to choose alternate selections.
scholastic.com/bookfairs
Booklist effective January 11, 2019 – March 31, 2019
Sales Tax
(if applicable)
Total
CUST
These cards accepted at participating schools.
© 2019 Scholastic Inc. All rights reserved. 15058 S19
Subtotal
Look for this symbol to  nd books that work with the Accelerated Reader program. ACCELERATED READER is a trademark of Renaissance Learning, Inc., and its use herein is not sponsored or licensed by, or otherwise
associated with, them. Check with your school for quiz availability.
To locate book, look for these symbols on book cases at your Fair!