Fall 2017 K-6 Booklist
P. 1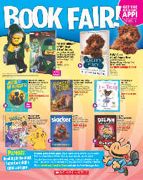 GET THE BOOK FAIRS
APP!
Scan books on this  yer! Watch a video!
See back cover.
THE LEGO® NINJAGO®
MOVIETM: Lloyd:
A Hero's Journey
Join the Green Ninja and his friends against the evil warlord Garmadon in the battle for Ninjago® City!
Molly's Story:
A Dog's Purpose Novel
by W. Bruce Cameron
Nothing will keep Molly away from the girl that she loves!
EXCLUSIVE PAPERBACK $6.99
$4.99
#370906 LEX:570L ECC
Stickers included!
Copyright © 2017 The LEGO Group & WBEI.
THE LEGO NINJAGO MOVIE © & TM Warner Bros. Entertainment Inc. & The LEGO Group. LEGO, the LEGO logo, the Mini gure, the Brick and Knob con gurations and NINJAGO are trademarks and/or copyrights of the LEGO Group. ©2017 The LEGO Group. All rights reserved.
Jack and the Geniuses:
At the Bottom of the World
by Bill Nye & Gregory Mone
Jack and his genius siblings go on an Antarctic adventure filled with awesome gadgets, crazy experiments ... and a missing person mystery!
EXCLUSIVE PAPERBACK $6.99
#373043 LEX:680L MG2  MGC
PokémonTM Alola Region Handbook
Stats and facts on the latest Pokémon, including the new Alolan forms and brand-new Legendary Pokémon!
#372719
MG3  MGC
101cats/Getty Images
Ranger in Time: Escape from the Great Earthquake
by Kate Messner
Ranger must help Lily and May avoid crumbling buildings and raging fires in order to get to safety.
SPECIAL PRICE $4.99
#370694 LEX:630L ECC
Slacker
by Gordon Korman
When Cameron invents a fake school club, he makes friends and powerful enemies!
SPECIAL PRICE $5.99
#370750 LEX:710L MG2  MGC
Princess Truly in I Am Truly
by Kelly Greenawalt,
illustrated by Amariah Rauscher If you can believe it, you can achieve it. Just like Princess Truly!
EXCLUSIVE PAPERBACK $4.99
#370899
PC
New series!
$9.99
#370915
ECC
Dog Man:
A Tale of Two Kitties
by Dav Pilkey
Petey the Cat's dragging in some trouble. Can Dog Man bust these furballs and stay top dog?
HARDCOVER $9.99
#371518 LEX:GN260L ECC
Becoming a good reader takes practice. Kids are happy to practice the things they love and our Book Fair is the perfect place for them to find and choose the books they want to read.
Support our Book Fair and help your children build a collection of books at home they can read alone ... and with you. View this short video to see how your involvement will make a difference.
Visit scholastic.com/bookfairs/family and scroll to Parent Message video.
DOG MAN TM/® Dav Pilkey
© 2017 The Pokémon Company International. ©1995-2017 Nintendo/Creatures Inc./ GAME FREAK inc. TM, ®, and character names are trademarks of Nintendo.
Parents: Reading is the most important skill a child can learn.