Spring 2019 Scholastic Book Fairs Booklist
P. 1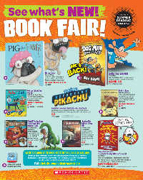 .
s
l
S
i
a
e
t
e
e
d
r
o
f
b
e
a
c
Art © 2018 Aaron Blabey
ECC
#380795 LEX: GN260
Shelby's Story
by W. Bruce Cameron
When Shelby is rescued, her old life of being hungry and cold
is forgotten and her new life becomes filled with challenges and rewards.
EXCLUSIVE PAPERBACK $6.99
MC1 #381956
Use the app to scan book covers and watch videos!
Friendly Kid: Rowley Jefferson's Journal
by Jeff Kinney
There's a new kid in town—get ready for a whole new look into the world of DIARY OF A WIMPY KID! Introducing the newest Wimpy Kid author—Rowley Jefferson! EXCLUSIVE PAPERBACK $8.99
MC1 #385070 On sale April 9
NEW!
NEW!
See what's
k
p
a
g
Pete the Cat and the
New Guy
by Kimberly & James Dean
Pete can't wait to meet the new guy in town. After all, more friends mean more fun!
EXCLUSIVE PAPERBACK $4.99
PC #383604 LEX: AD510
What If You Had T. rex
Teeth!? And Other
Dinosaur Parts
by Sandra Markle, illustrated by
Howard McWilliam Discover what it would be like if you woke up one day and had sprouted a dinosaur body part overnight!
$4.99
#380651
DINOSAURS! TABLE
Pokémon: Detective Pikachu Case Files Handbook
Want to help Detective Pikachu solve the case of the missing Pokémon? Then you have to have this in-world guidebook with all the stats and facts!
Pig the Stinker
by Aaron Blabey
Pig the Pug STINKS! He has a plan to get out of taking a bath, but when it backfires, will Pig get clean after all?
EXCLUSIVE PAPERBACK $4.99
PC #381113
Dog Man: Brawl of the Wild
by Dav Pilkey
Is Dog Man bad to the bone? The heroic hound is sent to the pound for a crime he didn't commit!
HARDCOVER $9.99
$7.99
P3 #382488
Movie: © 2019 WBEI and Legendary.
Pokémon Property: ©2019 Pokémon. TM, ® Nintendo
Illustrations copyright © 2019 by Howard McWilliam
PARENTS: READING IS THE MOST IMPORTANT SKILL A CHILD CAN LEARN.
Becoming a good reader takes practice, and our Book Fair is the perfect place for children to find and choose the books they want to read. Please support our Book Fair! View this short video to see how your involvement will make a difference.
Visit scholastic.com/bookfairs/parentvideo
Diary of an Awesome
DOG MAN TM/® Dav Pilkey
I Survived the
Battle of D-Day,
1944
by Lauren Tarshis
As hundreds of thousands of soldiers storm the beaches of Normandy, one boy and his community find the courage to turn horror into hope.
$4.99
MC2 #380580 LEX: 630
© 2019 and TM, Wimpy Kid, Inc. ALL RIGHTS RESERVED.