Page 2 - Scholastic Book Fairs Spring 22 Booklist for MS Case
P. 2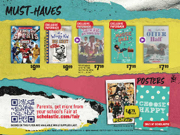 MUST-HAVES
$999 $999
EXCLUSIVE PAPERBACK
EXCLUSIVE PAPERBACK
    EXCLUSIVE PAPERBACK
    My
Two new friends. One great adventure!
OTTER
Michelle Schusterman
Half
   What happens when five kids face the end of the world ... alone?
$799
$799 $799
POSTeRS
   Parents, get more from your school's Fair at scholastic.com/fair
   BOOKS ON THIS FLYER ARE AVAILABLE WHILE SUPPLIES LAST.
Booklist effective January 14, 2022 - March 27, 2022 ©2022 Scholastic Inc. All rights reserved. 2307624 S22 Printed in USA BF402334
ONLY AT SCHOLASTIC
Assortment varies by Fair.
$475
each
TM and © 2007-2021, Wimpy Kid, Inc.