Page 1 - Spring 2017 K-6 Booklist
P. 1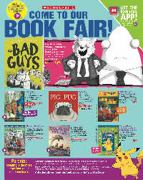 GET THE BOOK FAIRS
APP!
Scan books on this  yer!
Watch a video! See back cover.
The Bad Guys in Mission Unpluckable by Aaron Blabey
The Bad Guys face sizzling lasers and a feisty tarantula on their mission to rescue 10,000 chickens5!
#369556 $ 99
Art © 2016 Aaron Blabey
Horizon: Book 1
by Scott Westerfeld
A tropical rainforest in the Arctic Circle? Nothing is as it seems and the rules for survival are upside-down.
Exclusive Value- Priced Hardcover
Pig the Pug
by Aaron Blabey
Pig has all the toys a dog could ever want! But what happens when this greedy pug learns to share the hard way?
LEGO® Batman®:
Robin to the Rescue! Find out how Robin became Batman's right-hand man in this
book based on the new movie! #369259 LEX: 470L
LEGO Table $499
#366633
$ 99 12
Exclusive Paperback
#369580
Dolphin Dreams
by Catherine Hapka
$ 99 4
LEX: AD390L
LEX: 690L
DC Comics Secret Hero Society: Fort Solitude by Derek Fridolfs, illustrated by Dustin Nguyen
Can Avery and Maria overcome their differences and help their special dolphin friend, and each other, before it's too late?
Pokémon Classic Collector's Handbook: An Of cial Guide to the First 151 Pokémon
Want to be a great Pokémon Go Trainer? Gotta get this classic guide!
Spring break isn't for relaxing when you're a superhero.
Exclusive Paperback
#368365
$ 99 6
5
Only at Scholastic $ 99
#369278 $899
#368824 LEX: 820L
Parents: Reading is the most important skill a child can learn.
Becoming a good reader takes practice. Kids are happy to practice the things they love and our Book Fair is the perfect place for them to  nd and choose the books they want to read.
Support our Book Fair and help your children build a collection of books at home they can read alone ... and with you. View this short video to see how your involvement will make a difference.
Visit scholastic.com/bookfairs/family and scroll to It's an Idea Space.
© 2017 The Pokémon Company International. ©1995-
2017 Nintendo/Creatures Inc./GAME FREAK inc. TM, ®,
and character names are trademarks of Nintendo. ©2017 WBEI & DC Comics. ©2017 The LEGO Group.
Read the book! Play the game!
Stickers included!
Poster inside!