Page 2 - Fall 2017 K-8 Booklist
P. 2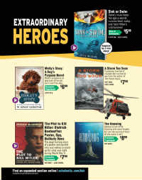 EXTRAORDINARY
HEROES
Molly's Story:
A Dog's
Purpose Novel
Sink or Swim
Danny must keep his age a secret, survive boot camp, and face Hitler's submarines! $599
Only at Scholastic
#370726 LEX:1040L
Inspired by a true story!
A Storm Too Soon
A gripping true tale of
courage and survival at
sea from the author of
Molly's purpose is to take care of her girl, but it won't be easy.
The Finest Hours.
7
#371585 $ 99
Exclusive Paperback
#372719
$699
LEX:1090L
The Plot to Kill Hitler: Dietrich Bonhoeffer: Pastor, Spy,
Unlikely Hero
The page-turning story of a pastor and pacifist who was willing to stand up for what was right during World War II.
The Knowing
Samara is one of the Knowing and never forgets. But can she survive if that's all she wants to do?
Exclusive $899 Paperback
Exclusive Paperback
#373041 LEX:1000L
$799
#372685
Find an expanded section online! scholastic.com/fair Available at participating schools.