Page 2 - Fall 2018 Custom Booklist
P. 2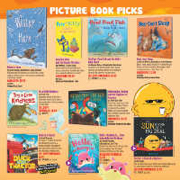 PICTURE BOOK PICKS
Winter Is Here
by Kevin Henkes, illustrated by Laura Dronzek
With gorgeous illustrations and lyrical text, young readers are introduced to the concepts and beauty of all things winter!
HARDCOVER $17.99
#378569
Pete the Kitty
and the Groovy Playdate
by Kimberly & James Dean
Young readers will learn all about sharing when their favorite blue kitten has a playdate with Grumpy Toad!
HARDCOVER $17.99
#377966
Try a Little Kindness
by Henry Cole
Appealing animal characters in sweet and humorous situations help readers learn the importance of being kind.
EXCLUSIVE PAPERBACK $4.99
P2 #378778
Duck on a Tractor
by David Shannon
The story of a determined duck who decides to jump on a tractor and drive it around the barnyard and through the town with hilarious consequences.
EXCLUSIVE PAPERBACK $5.99
P2 #379430 LEX: AD570L
The Pout-Pout Fish and the Bully- Bully Shark
by Deborah Diesen, illustrated by Dan Hanna Pout-Pout Fish teaches a bully shark about kindness and being a friend, and in doing so discovers the power of his own voice.
EXCLUSIVE PAPERBACK $4.99
Bear Can't Sleep
by Karma Wilson, illustrated by Jane Chapman
Bear's many animal friends try to help him get to sleep in time for winter hibernation in this companion story to Bear Snores On.
HARDCOVER $17.99
#377969
Hardcover Picture Books Table
P1 #379478 LEX: AD550L
Hardcover Picture Books Table
Holiday Reads Table
Interrupting Chicken and the Elephant of Surprise
by David Ezra Stein
Full of the same charm that made Interrupting Chicken so popular, this vibrant follow-up is sure to delight fans of stories, surprises, and elephants alike.
HARDCOVER $16.99
#378415
Illustrations Copyright © 2018 by Henry Cole
Hardcover Picture Books Table
Hello, My Name Is... How Adorabilis Got His Name
by Marisa Polansky,
illustrated by Joey Chou
Inspired by a true event, this adorable story imagines how the cutest creature in the sea got his name.
EXCLUSIVE PAPERBACK $4.99
P3 #378372 LEX: AD570L
The Sun Is Kind of a Big Deal
by Nick Seluk
Find out about every part of the Sun's big job of keeping our solar system together. It's kind of a big deal!
EXCLUSIVE PAPERBACK $5.99
Illustrations Copyright 2018 by Joey Chou
P3 #378771 LEX: 560L
Art © 2018 by Nick Seluk
Caldecott Honor Author/Illustrator of
No, David!