Page 1 - Fall 2018 Custom Booklist
P. 1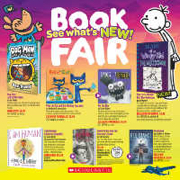 Dog Man:
Lord of the Fleas
by Dav Pilkey
Our hero must save the day by joining forces with an unlikely ally: Petey, the World's Most Evil Cat.
HARDCOVER $9.99
CHP #377221 LEX: GN530L DOG MAN TM/® Dav Pilkey
Art © 2016 by James Dean
Pete the Cat and the Missing Cupcakes
by Kimberly & James Dean
Pete and the gang solve the mystery of the missing cupcakes and learn it's cool to be kind!
EXCLUSIVE PAPERBACK $4.99
P2 #380113 LEX: AD440L
I Am Human:
A Book of Empathy
by Susan Verde,
illustrated by Peter Reynolds This celebration of empathy and compassion encourages children to see themselves as part of one big imperfect family – millions strong.
HARDCOVER $14.99
Pig the Star
by Aaron Blabey
Pig wants to be the star of the photo shoot, so when Trevor starts getting more attention, he is not happy! Can Pig ever learn to share the spotlight?
EXCLUSIVE PAPERBACK $4.99
P1 #377216 LEX: 490L Harry Potter and the
Sorcerer's Stone
by J.K. Rowling
The "boy who lived" is back with new cover art from award-winning illustrator Brian Selznick.
$12.99
#378623 LEX: 880L Wizarding World of Harry Potter Table
Wizarding World Publishing Rights © J.K. Rowling. Wizarding World characters, names, and related indicia are trademarks of and © Warner Bros. Entertainment Inc. Wizarding World TM & © WBEI. SCHOLASTIC TM/® Scholastic Inc. Art by Brian Selznick © 2018 by Scholastic Inc.
Diary of a Wimpy
Kid: The Meltdown
by Jeff Kinney
It's a fight for survival as Greg and Rowley navigate alliances, betrayals, and warring gangs in a neighborhood meltdown! Will they survive to see another day?
EXCLUSIVE PAPERBACK $8.99
#379422 On sale Oct. 30
DIARY OF A WIMPY KID®, WIMPY KIDTM, the Greg Hef ey designTM, and the design of
the book jackets are trademarks and trade dress of Wimpy Kid, Inc. All rights reserved.
MG2
#378749
Resistance
by Jennifer A. Nielsen
When Chaya joins the Jewish underground resistance against the Nazis, she is determined to save as many lives as possible and to live, or die, with honor.
EXCLUSIVE PAPERBACK $7.99
#377222 LEX: 810L
Hardcover Picture Books Table
MG2
Art © 2018 by Tim O'Brien
NEW!