Page 6 - Scholastic Book Fairs Spring 22 Booklist for MS Case
P. 6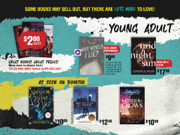 SOME BOOKS MAY SELL OUT, BUT THERE ARE LOTS MORE TO LOVE! YouNg AdulT
$200
each
         E
   GREAT BOOKS! GREAT PRICES!
Many more to choose from!
TITLES MAY VARY. WHILE SUPPLIES LAST.
XCLUSIVE PAPERBACK
$999
Viveca will do what it takes to get what she deserves. Even if that means taking down the school's golden boy.
AVAILABLE 2/1/22
$ 99 17
as seen on Booktok
      $1099
$1299
$1099
This book contains mature content.