Page 6 - Fall 2017 K-8 Booklist
P. 6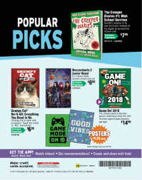 POPULAR
PICKS
Grumpy Cat®
No-It-All: Everything
You Need to No
Grumpy Cat is back with
a mission: Teach the world to "NO" everything!
The Creeper
Diaries #1: Mob
School Survivor
Gerald's mission is to use his brains instead of his blasts to survive the school year. $799
Exclusive Paperback
#372114 LEX:660L
Descendants 2
Junior Novel
It's a classic battle between wicked and evil!
Exclusive Paperback
#372018
$699
Exclusive Paperback
#372725
$699
Game On! 2018
The ultimate guide to the best games, featuring an interview with YouTube legend CaptainSparklez. #371547 $1499
$4.75 each
Poster designs may vary by Fair.
GET THE APP! Watch videos! • Get recommendations! • Create and share wish lists! Search "Book Fairs"
Major credit
cards accepted. K8 K8 8/14/17 – 10/29/17
© 2017 Scholastic Inc. All rights reserved. 13909 F17 Printed in the U.S.A. BF #371502 JC #665964
LEXILE LEVEL KEY
LEX: Lexile Framework® for Reading Lexile is a registered trademark of MetaMetrics, Inc.